I read about Serena Williams and I was amazed with the fact that she started her career at a very tender age of 5,and was already winning tournaments at age 10, and despite some of the problems she faced such as racial discrimination at age 14,the death of her sister (yetunde)an injury that almost caused her career she was still determined to make it to the top,and yes she made it.
Enjoy!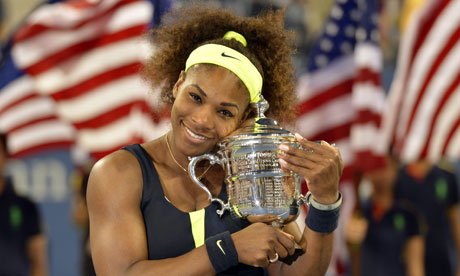 Serena Jameka Williams (born September 26, 1981) is an American professional tennis player currently ranked No. 1 in women's singles tennis.
The Women's Tennis Association
has ranked her World No. 1 in singles on six separate occasions. She became the World No. 1 for the first time on July 8, 2002, and regained this ranking for the sixth time on February 18, 2013, becoming the oldest world no. 1 player in WTA's history. She is the only female player to have won over $40 million in prize money. Williams is the reigning French Open, Wimbledon, US Open, WTA Tour Championships and Olympic ladies singles champion.
Regarded as one of the greatest tennis players of all time, Williams is the only player to have achieved a Career Golden Slam in both singles and doubles. Her 31 Grand Slam titles ties her for eighth on the all-time list: 16 in singles, In women's doubles, and 2 in mixed doubles.
She is the most recent player, male or female, to have held all four Grand Slam singles titles simultaneously ('02–'03) and only the fifth woman ever to do so. Her total of 16 Grand Slam singles titles is sixth on the all-time list,and fourth in the open era, behind Steffi Graf (22 titles) and Chris Evert and Martina Navratilova (18 titles each).
Among active players, male or female, she holds the most Major singles, doubles, and mixed doubles titles. She has won 13 Grand Slam doubles
titles with her sister Venus Williams and the pair are unbeaten in Grand Slam finals.
Serena Williams is also a three-time winner of the WTA Tour Championships. Williams is only one of five tennis players all-time to win a multiple slam set in two disciplines, matching
Margaret Court, Roy Emerson, Martina
Navratilova and Frank Sedgman.
Williams has won four Olympic gold medals, one in women's singles and three in women's doubles, an all-time record shared with her sister Venus.
Love Always
Sue